why is there so much volatility in single-player sport rankings?
tl;dr: maybe just sampling error in small samples
I had an interesting conversation about why there seems to be a lot of volatility in player rankings for tennis (compared to hockey/soccer/etc.). We wondered: is it all just a function of the number of players involved? Can the good hockey players average out the bad ones on a team, leading to more consistency of a teams performance? Given that I'm a fake statistician, I thought this question could be answered with some quick simulations.
How about a team is made up of players, whose athletic ability can be summarized in a number (aka 'fitness' - thanks Sarah for the evolutionary terminology). This number is drawn from a distribution of average ability within the team and some deviation. The difference in the means of two teams governs who wins the game. In the following there is a distribution of players from two teams - red/blue. (All code is available at this website source, but the main function winner_winner_chicken_dinner() is below.)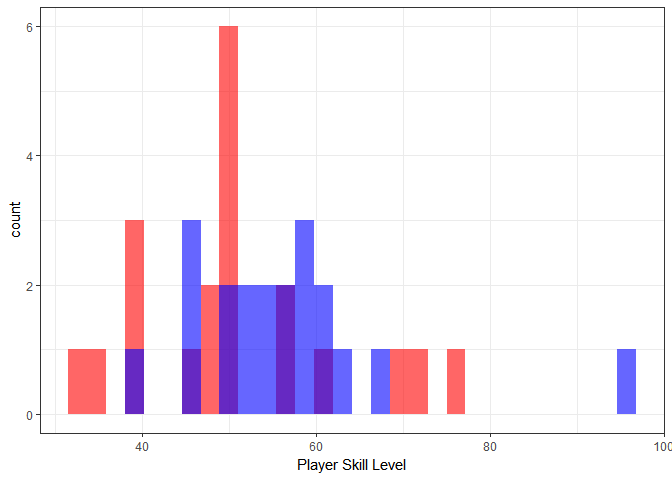 So in this one example it seems that the blue one wins and the red one loses. (Blue team had a mean = 55, and red had mean = 50). But we really wanted to know about volatility - on average, how often does the better team win?
To make this easier, how about we assume the teams are equally "good". If they play 100 games, how close is it to 50 wins each team?
 "Team 1 won 53 games, and Team 2 won 47."

So it's about even - makes sense! What if we drop this down to only 1 player per team (ie. Tennis):
 "Team 1 won 53 games, and Team 2 won 47."

So that seems like I was wrong! If we assume that the one player score, where just if one score is greater than the other, indicates a win, then it doesn't matter how many players!
But before I admit defeat…
What about the difference in magnitude of a win. Is the average difference between games higher when there are only two players?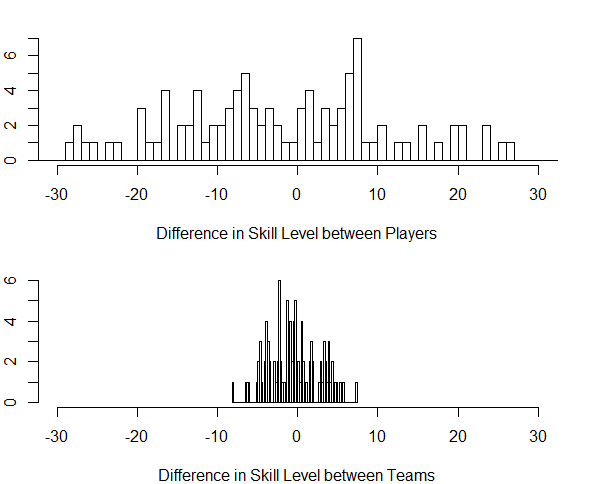 Aha! So the spread is way bigger for the tennis tournament. Maybe the simplification of assuming that if one score is larger than another leads to a win was a bad one. Or, maybe I don't like losing arguments and have gone down a serious garden of forking paths. Or better yet, maybe all of this is could be explained by some variation of the central limit theorem. Who knows?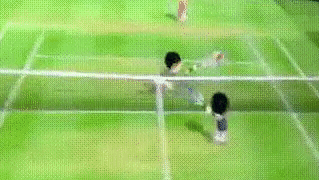 ## function(team_average_1,
##          team_average_2,
##          std_dev,
##          number_players,
##          number_games){
##   
##   team_1_vec <- vector()
##   team_1_minus_2 <- vector()
##   
##   for(game in 1:number_games){
##     team_1 <- rnorm(n = number_players, 
##                     mean = team_average_1, 
##                     sd = std_dev)
##     team_2 <- rnorm(n = number_players, 
##                     mean = team_average_2, 
##                     sd = std_dev)
##     if(mean(team_1) > mean(team_2)){
##       team_1_vec <- c(team_1_vec, 1)
##     } 
##     team_1_minus_2 <- c(team_1_minus_2, mean(team_1) - mean(team_2))
##   }
##   
##   if(number_players > 1){
##     unit_team <- "Team"
##   } else {
##     unit_team <- "Player"
##   }
##
##   conclusion <- paste(unit_team,
##                       '1 won ', 
##                       sum(team_1_vec), 
##                       " games, and ",
##                       unit_team,
##                       " 2 won ",
##                       (number_games - sum(team_1_vec)),
##                       ".", 
##                       sep = "")
##
##   finale <- list(conclusion, team_1_minus_2)
##   return(finale)
## }

Written on October 7, 2017